Insight Astronomy Photographer of the Year
Contact Us*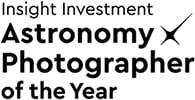 We are proud to sponsor the Insight Astronomy Photographer of the Year competition. The Royal Museums Greenwich has created a wonderful showcase for photographic talent and truly striking pictures of the night sky and our shared universe.
The entries into the Insight Astronomy Photographer of the Year capture spectacular and awe-inspiring images from the earth's atmosphere to the very farthest reaches of the universe. They are a testament to the skill of the participants and the vast magisterial sweep of creation.
The links between astronomy and finance go right back to the origins of the Royal Observatory. The assistant to the first Astronomer Royal and the second person to hold that post, Edmond Halley, was a pivotal figure in the history of ideas. He paid for Sir Isaac Newton to publish the Philosophiæ Naturalis Principia Mathematica in 1687, regarded as the founding text of modern physics. Halley is also credited with the development of actuarial science through his ground breaking work on life annuities.
We share this pioneering spirit. Since our founding in 2002, we have been at the forefront of developing liability-driven outcome oriented investment solutions for clients, have stayed at the cutting edge of fixed income management and been in the vanguard of building institutional quality processes and governance into absolute return investing.
2017 competition
In 2017, 3,800 photos were submitted from 91 countries, making this one of the world's largest photography contests, and world's number one astronomy photography competition. The overall prize winner for 2017 was Russian Photographer Artem Mironov for is photo "The RHO Ophiuchi Clouds". We're extremely proud to sponsor this competition, and invite you to view all of this year's winners here.
Our sponsorships
Learn more about Insight