Explore how currency hedging solutions can help manage risk
As portfolios have diversified internationally, it has become increasingly important for institutional investors to manage currency risk. While geographical diversification is a key tool in spreading investment risk, investors are presented with another, unintended risk, that of international currency exposure.
In the short term, currency volatility can be beneficial or detrimental. However, it is generally agreed that over the long-term investors should not expect to gain from a passive exposure to developed market currency exposures.
We explore how currency hedging solutions can help investors manage these risks and also provide a potential source of return which is uncorrelated to their other investments. In particular, we look at some of the practical aspects of managing currency risk:
The starting point: setting up a strategic currency hedge ratio
Passive currency overlays: how to implement the strategic hedge ratio as efficiently as possible and avoid the pitfalls
Dynamic currency overlays: how to deviate from the strategic hedge ratio to generate reliable and repeating returns
Emerging market currency overlays: overcoming the additional barriers when investing in developing markets
Customisation: Three ways to increase the customisation of a currency solution
Implementation considerations: structure, liquidity and specialism
Currency: A major source of risk and uncorrelated return opportunity (returns versus the US dollar 1990 to 2019)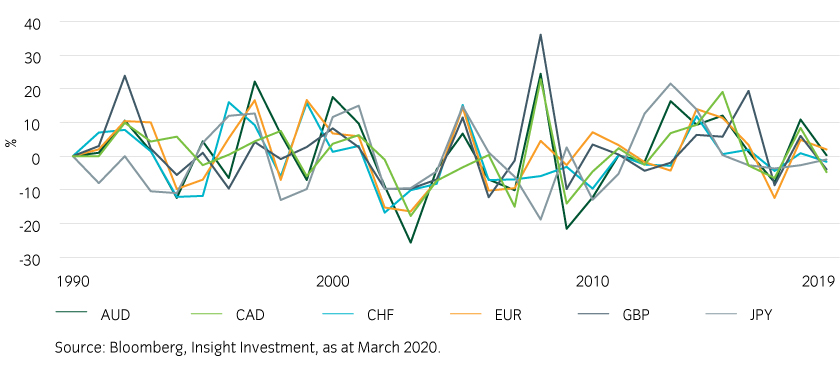 Source: Bloomberg, Insight Investment, as at March 2020.