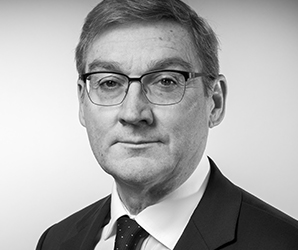 Adrian Grey
Global Chief Investment Officer
Close
Adrian Grey
Global Chief Investment Officer
Adrian joined Insight in April 2003 as Head of European Fixed Income following the acquisition of Rothschild Asset Management Limited (RAM).
In September 2003, he was appointed Deputy Head of Fixed Income and in 2005 became Head of Fixed Income. Adrian joined the Executive Management Committee in October 2012 and in 2016, he became Chief Investment Officer – Active Management. In September 2018, Adrian took on his current role as Global Chief Investment Officer responsible for the oversight of the firm's investment management teams.
Before joining Insight, he was a Director in the Fixed Income Team at RAM focusing on European research and global portfolios. Prior to joining RAM in 1994, he spent four years working in bond sales for UBS Phillips & Drew and three years managing international bond portfolios at ARCA, Milan.
He has a BA honours degree in Economics and Politics from Warwick University and an MA in International Economics and International Relations from Johns Hopkins University in the US.