In 2020, we were awarded A+ ratings by the PRI for strategy and governance, and for the integration of responsible investment-related issues across our fixed income business (corporate bond, sovereign bond, and securitised asset portfolios).
We believe this reflects our ongoing commitment to integrating responsible investment practices across all aspects of our business, and confirms our position as a market-leading proponent of responsible investment.
As a firm, we take responsible investment seriously. We have been successfully integrating environmental, social and governance (ESG) considerations into our decision-making processes for over a decade. Our approach is underpinned by the belief that ESG issues are important drivers of investment value. We believe integrating ESG issues into our investment processes, and in our dialogue with issuers and other stakeholders, supports better investment decisions and can have the potential to help our clients achieve their desired outcomes.
The full PRI assessment and transparency reports on Insight Investment are available in our responsible investment literature library.
Insight Investment PRI ratings 2020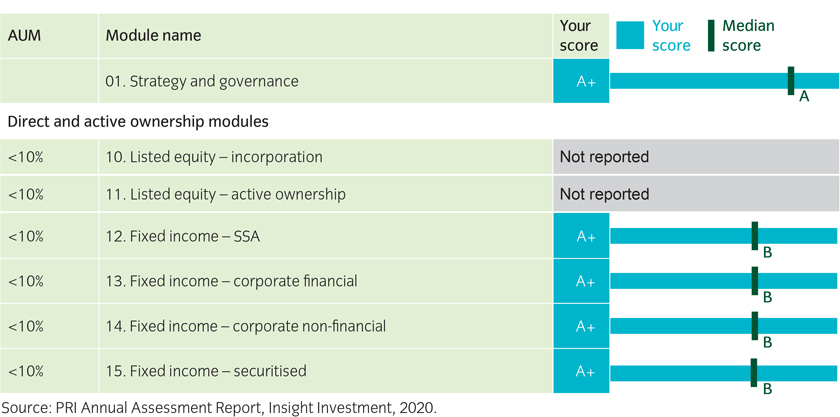 Insight and responsible investment credentials
Insight was a founding signatory to the PRI in 2006, the world's leading proponent of responsible investment. Signatories to the PRI include investment managers and asset owners with trillions of dollars of assets under management.
We have been supporters of the Institutional Investors Group on Climate Change (IIGCC) and CDP initiatives since our founding in 2002.
Insight has integrated ESG considerations into our decision-making processes for over a decade.
Insight manages ESG strategies including those with best-in-class, climate, positive impact and exclusion objectives and criteria. As at 30 June 2021 we managed more than £13.2bn (€15.4) in ESG strategies1.