Contact Us
Please read important information about Insight's data collection policies HERE before sharing your personal information with us on email.
Tailored to meet your objectives
Our modular approach allows multiple strategies to be combined to meet your specific objectives
Our systems and infrastructure are highly flexible and allow for seamless combinations of our currency solutions.
Product specialists work with you to build a customised client-specific solution with tailored risk sensitivity and performance targets.
For some clients, a single strategy may fit their needs. But for those with more complex objectives we can combine multiple strategies to achieve desired objectives with an emphasis on downside protection.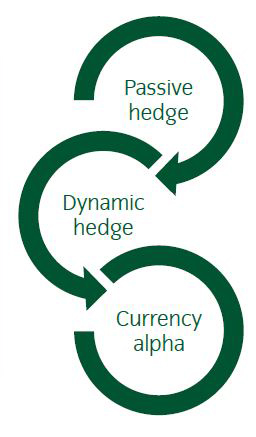 Passively hedging currency (via tracking baskets)
Linked to client exposure
No optionality or alpha
Time varying hedge ratios within a risk management framework
Linked to client exposure
Optionality, so potential for alpha
Quantitative and Discretionary approaches
Unconstrained exposures
Long/short exposure with target return
Insight currency strategies
Passive hedge

Dynamic hedge

Currency alpha

At Insight, we pride ourselves on delivering a highly flexible and solution-driven offering that benefits from the same dedicated currency trading desk, state-of-the-art infrastructure, competitive pricing and trade efficiency as active mandates.

Proprietary currency models monitor hedge levels and calculate adjustment trades. Tight operational and risk controls are embedded in the systems and processes. Passive hedging assignments receive the oversight of our experienced currency team. This framework can also be employed to deliver bespoke solutions with downside limits on realized cash flows or currency translation losses.

Currency Risk Management (CRM), our flagship dynamic hedging strategy, has close to a 30-year track record. CRM is tailored to manage each client's foreign currency exposure within a risk management framework. CRM systematically adjusts hedge ratios (i.e. increasing hedges when the base currency strengthens and reducing them to allow foreign currency strength to flow through to the portfolio) as the currency landscape evolves. This can prove to be beneficial, especially in periods where the client's base currency rises or falls considerably over a short period of time. Dynamic hedge ratio adjustments are based on various factors and can accommodate a blend that best matches the desired outcome of the client.

CRM seeks to add value over the client's passive strategic currency benchmark through time. CRM is a systematic program that is supported by robust infrastructure and an experienced London trading desk.

We believe that investment returns can be generated via awareness of a number of persistent behavioural features that occur within currency markets. Our Quantitative Currency Alpha strategy utilises a systematic approach to capturing these behavioural features, aiming to achieve reliable and repeatable returns over time.

Our Discretionary Currency Alpha introduces greater management discretion on positions and position sizing. We tap into Insight's deep pool of cross-strategy investment expertise to pinpoint developments that we can exploit.

Blending both the discretionary and quantitative alpha streams can achieve a distribution that generates alpha across the economic cycle.

Why Insight for currency solutions?
Full scale currency solution provider with extensive experience in currency markets
Insight has a proven track record for delivering both quantitative (since 1991) and discretionary solutions (since 2005). We offer a broad spectrum of currency capabilities ranging from passive hedging, dynamic hedging, to unconstrained quantitative and discretionary alpha strategies. Our modular approach allows for fully customised solutions to meet specific client objectives.
Experienced and highly regarded currency team
The investment team is well-established and has an average experience of 19 years. Our dedicated client relationship team will work in partnership with you and our local offices offer client service, quantitative research and solution design capabilities.
Best execution and efficient trading
Insight's dedicated and experienced currency trading team are able to provide access to multiple sources of liquidity to ensure competitive pricing. Insight is an independent transaction cost analysis (TCA) provider, utilising technology and analytics through BestX.
Proven and scalable technology infrastructure
We have the flexibility to implement highly tailored client solutions with risk control at each step of the process.
Currency solutions in numbers
1991 Year we started actively managing currency risk for our clients
24 investment professionals with 19 years' average industry experience
£47.7bn assets managed by the Currency Solutions team
As at 30 September 2021. Assets under management (AUM) are represented by the value of cash securities and other economic exposure managed for clients.
Our currency credentials