Secured finance fund and Secured finance II fund
Contact Us
Please read important information about Insight's data collection policies HERE before sharing your personal information with us on email.
As banks continue to rebuild their balance sheets and scale back their lending activities, we believe long-term investors have the opportunity to step in to fill the void.
Features
Secured finance is a fixed income asset category with the following attractive features:
Certainty: Contractual cashflows have the potential to offer a higher degree of certainty and control on timing of returns and can help avoid inopportune forced selling to meet short-term cash flow needs.
Spread: A 'complexity premium' exists above comparably rated corporate credit, reflecting the complexity of sourcing, analysing, modelling, and structuring private debt investments.
Security: Lending is typically secured against a portfolio of physical assets and subject to structural protections.
Diversification: Exposure to residential and consumer risks, commercial real estate debt and secured corporate lending allows for diversification across public and private debt and against traditional corporate bond holdings.
Floating rates: Coupons providing floating rates above cash can help mitigate the impact of rising interest rates
Higher risk-rated returns: Potentially a higher risk-rated alternative to multi-asset credit and leveraged credit strategies, which are historically volatile asset classes, subject to drawdowns and credit default risks.
Growth and liability-matching properties: The combination of higher yield and more reliable cashflow generation provides a potential bridge between return-seeking and liability-matching portfolios.
Insight's secured finance offering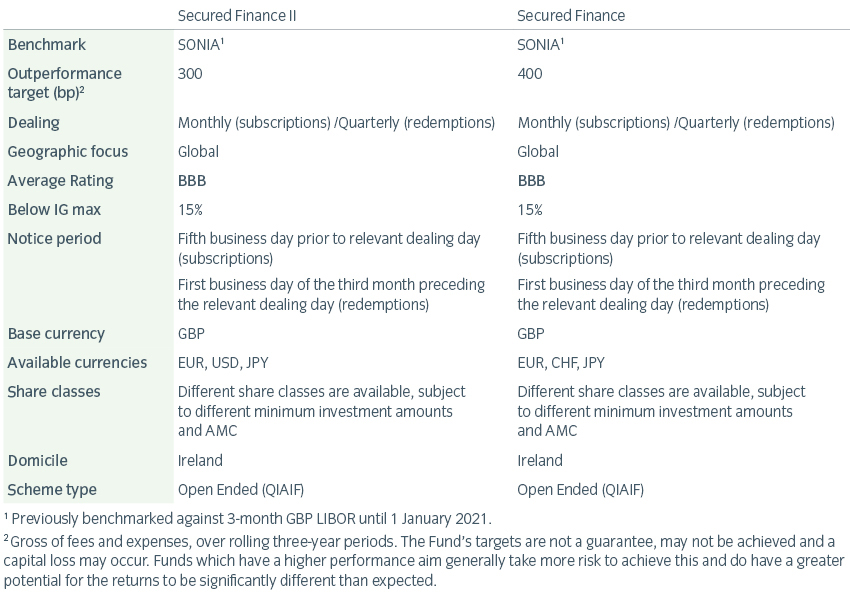 Assets under management (AUM) are represented by the value of cash securities and other economic exposure managed for clients. Reflects the AUM of Insight, the corporate brand for certain companies operated by Insight Investment Management Limited (IIML). Insight includes, among others, Insight Investment Management (Global) Limited (IIMG), Insight Investment International Limited (IIIL) and Insight North America LLC (INA), each of which provides asset management services.
Please note: with effect from 5 January 2018 we are no longer accepting subscriptions to IIFIG Secured Finance Fund. Investors with existing holdings are not affected and you can still sell your shares. We remain open to new segregated Secured Finance mandates with customised investment guidelines and investment in the IIFIG Secured Finance II Fund. Please contact your Insight relationship manager for further information.
Fixed income team in numbers
114 Fixed income investment professionals globally
18years Average experience of fixed income team
£153.8bn fixed income assets
As at 30 June 2021. Assets under management (AUM) are represented by the value of cash securities and other economic exposure managed for clients.
Corporate profile
Factsheets
Fund and strategy profiles
Prospectuses and scheme documents
Recent thinking
Secured finance