Insight Investment Astronomy Photographer of the Year
Contact Us
Please read important information about Insight's data collection policies HERE before sharing your personal information with us on email.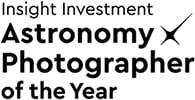 We are proud to sponsor the Insight Investment Astronomy Photographer of the Year competition. The Royal Museums Greenwich has created a wonderful showcase for photographic talent and truly striking pictures of the night sky and our shared universe.
The entries into the Insight Investment Astronomy Photographer of the Year capture spectacular and awe-inspiring images from the earth's atmosphere to the very farthest reaches of the universe. They are a testament to the skill of the participants and the vast magisterial sweep of creation.
The links between astronomy and finance go right back to the origins of the Royal Observatory. The assistant to the first Astronomer Royal and the second person to hold that post, Edmond Halley, was a pivotal figure in the history of ideas. He paid for Sir Isaac Newton to publish the Philosophiæ Naturalis Principia Mathematica in 1687, regarded as the founding text of modern physics. Halley is also credited with the development of actuarial science through his ground breaking work on life annuities.
We share this pioneering spirit. Since our founding in 2002, we have been at the forefront of developing liability-driven outcome oriented investment solutions for clients, have stayed at the cutting edge of fixed income management and been in the vanguard of building institutional quality processes and governance into absolute return investing.
2019 Competition
The Royal Observatory's Insight Investment Astronomy Photographer of the Year 2019 has once again received thousands of outstanding images. The competition, which is run by the Royal Observatory Greenwich, sponsored by Insight Investment and in association with BBC Sky at Night Magazine, is now in its eleventh year. In 2019 the number of entries has broken records, with over 4,600 entries from enthusiastic amateurs and professional photographers in 90 countries, each one seeking to be named Insight Investment Astronomy Photographer of the Year.
Watch the video below to see an overview of this year's shortlisted images:
2018 Competition
Congratulations to all of the 2018 winners of Insight Investment Astronomy Photographer of the Year 2018. Now in its tenth year, the competition received over 4,200 entries from 91 countries spanning all seven continents. The best of these exceptional photographs – winners, runners-up or highly commended – are showcased alongside a remarkable selection of the best images spanning the last decade, in a major special exhibition at the National Maritime Museum. 'Insight Investment Astronomy Photographer of the Year, 10 years of the world's best space photography' opened to the public on 24 October 2018.
Learn more about our sponsorships
Learn more about Insight