Introducing: Jon Ratcliffe - Technology Lead, Development
It's Monday and it's 5 am. I'm generally out of bed at this time; I'm not often leaving the house. It's cold, dark and I'm at least a 30 minute commute from my first caffeine hit.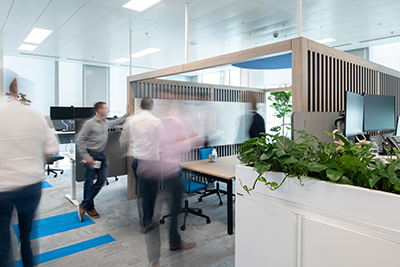 I'm on en-route from Manchester to Insight Investment's London office to start a new adventure.
I'm one of four Tech Leads hired to establish Insight's Manchester Tech hub. I feel a great responsibility on my shoulders. We four (along with subsequent hires) will fuse the culture of an established, leading global asset manager within our new office, set up to focus on excellent technical engineering. I'm a northern software nerd with no prior experience in finance and an aversion to London. I'm on a high diving board about to plunge into a deep lake of the unknown.
The journey to London is effortless. I meet up with my fellow Tech Leads. We head through reception to meet Abi, our contact in HR, who takes us through the basics.
Monday is filled with a collection of on-boarding sessions that run like clockwork and we meet with some great people. We discuss Insight culture with Jeff. He explains to us culture is not something you can capture on a post-it note. It's intangible and absorbed through osmosis, which is exactly what we do for the rest of the week and beyond.
I jump from one meeting room to another as Insight executes a well thought out on- boarding. It's a combination of technical briefings and gentle introductions to asset management and Liability Driven Investment.
The pace is fast. The people we meet are focused, driven and yet unmistakably human. Insight people are very approachable and friendly, something my preconceptions hadn't allowed for.
We are taken through more of the strategic vision for cloud computing and where the Manchester Tech hub fits into the bigger picture. The commitment to Azure and their in-house expertise on leveraging cloud computing is impressive. It feels good to be part of something big, complex and considered.
There's time for a break, an evening social in the Rising Sun. Stone floors, sticky bar tops and proper beer in real pint glasses. Not a mason jar in sight and a million miles away from the painfully cool bars that surround our new Manchester office in Spinningfields. Again, my preconceptions about "financial types" fade as we descend into relaxed chat.
It's hard to pick a highlight but I'm going to. Gareth (Head of Technology Transformation) took time out to walk the floors with us. An Insight veteran of 20 years, Gareth seems to know every corner of the business and how each part interacts. Even though some of the buzzwords and concepts may still be out of reach, this seemingly simple walk around the office is enjoyable, memorable and gave us some much needed context.
As the week draws to a close and I get the train back to Manchester, it's time to reflect on what I've experienced. It will take a while to fully replay my experiences but already I can sense an attitude of personal responsibility in everyone I've met. A "can do" approach and a drive to get things done with little fuss or ceremony and a basic orientation to "do the right thing".