Introducing: Mark Topping - Technology Lead, Development
My first week journey.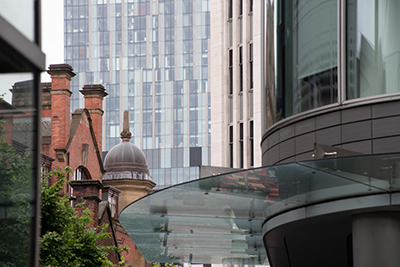 It's late Sunday afternoon. I'm on a train headed to London. It's quiet and I feel vindicated in my decision to take up Insight's offer to travel down the night before I start. My first solo venture on the London Underground is outside of peak hours. It's calm rather than carnage. I'm not barged out of the way or shouted at for standing on the left side of the escalator.
I arrive and am greeted by beautiful architecture. I take some time to relax; albeit I'm about to start work for Insight Investment part of BNYM. I'm about to start what I consider a very rare and prestigious opportunity; seriously... relax? On the contrary, I'm giddy and buzzing.
I'm greeted by a number of people from HR and taken through the formalities of building passes, the benefits package and given a taster of Insight culture.
We run through the benefits: family medical care, dental, critical illness cover, health checks and a very rich wife if I die etc. etc. Ok it's a touch morbid and yet this stuff helps me sleep at night. I'm also super happy that I now get a 9% pension to keep my dream alive of retirement before I'm 65! That's a long way off.
This shows me this is a place that clearly cares about its people.
We go over compliance, when you're working for a bank chances are they have a few rules to tell you about right? I won't give you an hour by hour account, so I'll point out a few things:
Ridiculously clever business folk? Check Helpful, knowledgeable and patient colleagues? Yes, especially you Kieron.
Clear plans, direction, strategy? Ambitious plans? Check
Equipment ready? Email working? Induction week fully planned out? Yes. Perfectly? Well, not quite, but easy fixes for next time.
Access to training? Yes - you get Safari & Pluralsight as a minimum for starters.
The management, culture, environment, ambitions and people feel right. There are many challenges to solve and those are problems that Devs can solve; that's definitely good.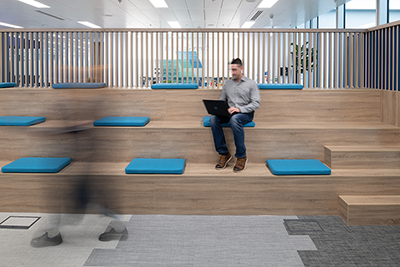 As for the journey ahead, my new found colleagues, (nay friends already) and I, enter the company at a really exciting time. Agile has arrived and I'm about to play my part in an exciting transformation project to bring the companies applications on a journey into the cloud. This, even for a semi-legacy app of any significant size, poses a joyful amount of challenges. Bring on .NET Core, Micro Services, Disconnected Architecture, Containerisation and all that good stuff. Many of the applications I'm about to get to grips with support a business which manages large amounts of money; and does so ultimately on behalf of millions of people like you and me who seek happy and prosperous retirements – no pressure huh!
Along with the technical challenges, the people, from Devs through to Heads of, have a great vision for the new team in Manchester to do some amazing things. They've invested in a new purpose built office in Spinningfields. It's a suave and modern space – not quite what you might expect from a bank (no offence meant).
If you're a super-awesome techie, Business Analyst or a great team leader and you're reading this because you're scoping Insight out as a future place of work; I'd encourage you to pursue it.
You'll likely get to speak with people like Gareth and Dan (two of the IT Heads), who've been with the company for a collective 30 years and still carry the passion of a pair of new starters. It won't be as 'hip' as some tech places you'll find but then those companies probably aren't managing your pensions. I, for one, am cool with that.
It was a great first week and if you want to know if I feel the same many weeks and months in; reach out for a chat. I'll be honest about what my experience is so far.