February 11, 2022
Fixed income
Our key investment calls for 2022 is for lower duration areas of credit to enjoy a far stronger year relative to equities than in 2021. We believe now is an ideal time to reconsider your portfolio strategy.
Summary
---
The final verdict on Insight's calls in 2021
Table 1 shows how our main macro calls in 2021 fared. The main macro call we got wrong last year was inflation. We expected CPI to run consistently above target, particularly during the summer, but expected it to remain contained and descend into the New Year.
Table 1: Inflation figures were higher than we expected1
| Insight's 2021 Macro calls | Verdict | Why? |
| --- | --- | --- |
| Growth will be above 5%, driven by consumer, leisure and housing | ✓ | Fiscal stimulus and consumption drove GDP |
| Inflation will be capped | x | CPI accelerated close to 7% at year-end |
| Interest rates will be capped | ✓ | 30-year yields stayed below 2% even as inflation soared |
| Volatility will increase | ~ | Rate volatility did but equity volatility did not |
This largely did not impact our investment calls (Table 2). Although here, two incorrect calls stand out: it was a year too early to hedge equity risks and to allocate to emerging market corporate debt.
New equity highs helped the average pension plan reach close to a fully funded status and emerging market hard currency corporate debt delivered only a narrowly positive return, given monetary tightening and concerns around the Chinese property sector.
Table 2: It was too early to hedge equity exposure and emerging markets had a tough H21
| Insight's 2021 Investment calls | Verdict | Why? |
| --- | --- | --- |
| Overweight high yield | ✓ | Top performing credit asset class at ~6.6% excess return vs government bonds |
| Long convertible bonds | ~ | Positive ~6% total return, but lagged equities at ~20% |
| Hedge equity risks | x | Would have dragged on returns given equity rally |
| Long BBBs | ✓ | ~2.9% excess return vs government. AAA to A excess return was ~0.8% |
| Allocate to emerging market corporates | x | Hard currency corporate returns were only narrowly positive at 0.9%. Hard currency sovereigns fared worse (-1.8%) and local currency sovereigns worse still (-8.7%). |
| Allocate to structured credit, including esoterics, for consumer, leisure and housing exposure | ✓ | Defaults benign amid fiscal support and consumer recovery |
Our key investment take for 2022: certain credit markets have a shot at outperforming equities
In our view, the asset mix that performed best in 2021 is unlikely to do so again in 2022, as the economic cycle transitions from the "early cycle" recovery to the "mid-cycle".
We expect nominal GDP growth to remain strong at ~8% in 2022 (and above the pre-pandemic trend), or close to 4% in real terms, which reflects a moderation relative to 2021. We see this as good news for higher yielding and lower duration credit amid a backdrop of rising rates, given appealing carry and muted default risks.
Our key macro take for 2022: the "negative real yield" world is here to stay
The global inflation outlook may be debatable and contentious, but we can be more certain that central banks are limited in their ability to respond to it by tightening monetary policy in response.
Even as the Federal Reserve (Fed) has made headlines over the last few weeks for surprising the market with a 'hawkish pivot', it is worth remembering that this is the hottest the central bank has let inflation and the labor market run (since 1967 and 1980, respectively) before a policy rate "lift off", indicative to us of a shorter and steeper hiking cycle.
As such, although we believe we are not going back to the 1970s with regards to inflation, we are in terms of real yields (Figure 1).
Figure 1: We are going back to the 1970s, but in terms of real yields, not inflation2

Assuming 3.5% CPI over time, nearly all of US dollar investment grade corporate debt already trades at a negative real yield (Figure 2). We expect negative real Fed Funds Rates to persist into 2024, which will essentially serve as a "tax" on investors.
Figure 2: Investors need to look beyond investment grade corporate for real yields3

Internal and external pressures put limits on central banks' ability to hike
Debt burdens limit central banks' ability to tighten policy
As political trends have been shifting from monetary to fiscal expansion, low rates have become an important tool for keeping interest costs on growing government debt burdens sustainable. Further, central bank asset purchases have essentially "cancelled" interest costs on the government debt they hold.
As such, reversing course aggressively on policy rates and unwinding central bank balance sheets too far threatens governments with historically high interest burdens (Figure 3) (see Global Macro Research: Global debt sustainability).
Figure 3: The desire to keep government debt costs low will add pressure to central banks4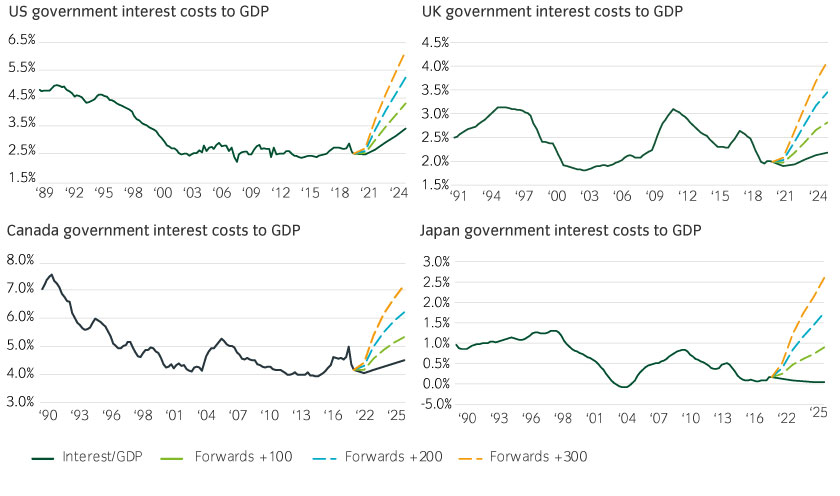 Central banks are independent, but cannot operate in political vacuums, particularly as growth, inflation and government debt burdens become "hot button" political issues across the globe. Further, as all advanced economies are unified in easy monetary policy stances, any single nation breaking away would face exacerbated disruption, particularly in rates and currency markets.
Geopolitical trends may also limit the Fed's marginal ability to hike
In recent years, globalization has been under pressure, increasingly in favor of "regionalization" and the return to prominence of spheres of influence (see: Global Macro Research: The Future of Globalization). This is perhaps best illustrated by the evolution of China from US trading partner to geopolitical rival, challenging America's dominance in economic, political and trading influence (Figure 4).
Figure 4: The growing rivalry with China may add pressure to run the US economy "hot"5

As regionalization continues, we expect political incentives to run the economy hot (considered a matter of national interest) to absorb any disruptive impacts, such as supply chain reshoring from ongoing trade tensions.
Positioning for negative real yields: high yield, emerging market debt and structured credit are our sweetspots
In our view, if investors wait for the right entry points, they may find compelling opportunities down the credit ratings scale.
1) High yield credit: could potentially outperform equities
Whereas equities performed well during the high-growth 2021 environment, high yield has historically performed best during moderating growth environments. As such, we think it will potentially find its sweet spot in 2022 (Figure 5). In our view, this is because corporates are less incentivized to chase leverage-increasing activities when GDP is moderating, benefiting debt investors.
Figure 5: High yield has performed best through more moderate growth environment6

Within high yield, we see particular potential in:
Rising stars, which we expect to exceed Fallen Angels volumes by a 10:1 ratio in 2022. Investors may wish to consider a dedicated Fallen Angels strategy, executed within an efficient beta approach (see: A better way to generate beta in fixed income).
Short duration and floating rate high yield, which we believe offers a compelling excess premium despite short maturities and defensive interest rate risks.
2) Emerging market (EM) debt: after H2 2021, watch for compelling entry points
Following a difficult H2, we believe now is good time to consider entry points to EM debt.
Several EM economies are far more advanced in their rate hiking cycles than the US, providing compelling carry and value relative to developed markets. Further, investor positioning is less crowded and, in our view, economic fundamentals are far more resilient than during the 2013 (for more see: Emerging market debt – no more tantrums?).
Additionally, we believe the fallout from China's property sector woes are largely priced in. The main risks in our view are continued supply chain issues and risk of persistent global inflation.
3) Structured credit: direct exposure to the consumer offers potential value
As with 2021, we expect the consumer to drive GDP growth in 2022. Even as fiscal stimulus fades, unemployment has returned to the pre-pandemic lows below 4%, savings rates are $4trn above pre-COVID levels and the lowest-paid quartile has seeing the fastest wage growth.
Structured credit offers the opportunity to participate directly with the US consumer, in our view leaving consumer and commercial structures well-positioned to outperform this year. We expect subordinate consumer positions to outperform across core, alternative and esoteric markets. Pension investors should, in our view, take a leaf out of the playbook of life insurance companies here, which now hold ~25% of their fixed income assets in securitized asset classes7.
Time for pension plans to implement a more aggressive fixed income strategy, but more defensive equity strategy
In 2021, pension plans benefited from the equity rally, and many now have reached a fully funded status. However, given the interest rate outlook, we believe they should consider changing their asset allocation to protect their gains.
In our view, part of this should involve a more aggressive fixed income allocation, and a more conservative equity strategy (Table 3).
Table 3: Performance in 2021 has changed the game for pension plans in 20228
| Pension plan strategy consideration | Insight's recommended strategy |
| --- | --- |
| Rates allocation | Increase precision of hedge, such as using capital-efficient overlays |
| Credit allocation | Migrate from A-rated or above credit to BBBs, high yield, EM debt and structured credit, considering floating rate and short-dated opportunities. To retain interest rate risk position, barbell these opportunities with long-dated credit (which is typically less impacted by hiking cycles than the belly of the curve) and / or capital efficient overlays to retain unchanged interest rate or key rate risks. |
| Growth allocation | Consider protecting against drawdowns in the lowest-cost but most reliable way |
| Inflation risks | Consider protecting against tail risks |
| End state | Given market moves, update end state objective and plan to reach it |
For more on our key 2022 themes for liability-aware investors, please see our companion piece: Top Five LDI Considerations for 2022.
Table 4: Insight's 2022 calls summarized8
| Insight's 2022 Macro Calls | Why? |
| --- | --- |
| Real GDP Growth will be 3.5-4% | Consumption and trade to power the gains |
| Inflation will moderate to ~3% by year-end | Fading fiscal stimulus will slow pricing pressure |
| Interest rates will rise manageably | Central banks likely to be as dovish as permissible |
| Volatility will increase | Declining excess liquidity raises vol |
| Insight's 2022 Investment calls | Why? |
| --- | --- |
| Overweight high yield (particularly fallen angels and short duration high yield) | Consumption and trade to power the gains |
| Allocate to structured credit | Direct participation on the consumer during potential decade of the employee |
| Hedge downside equity risks | Stocks vulnerable to volatility given valuation, rising rates and GDP moderation |
| Avoid A or higher corporate credit | Firms with "ratings to spend" incentivized to lever up |
| Allocate to hard currency EM | Many rate hikes completed, technicals not crowded and fundamentals |
| Credit outperforms equities | Moderating growth makes credit the sweet spot for asset allocators |