June 27, 2020
Fixed income
Following the fastest-ever rebound in credit spreads, investment grade (IG) credit can potentially offer a sweetspot of measured offense and defense amid uncertainty.
A record rebound, but the crisis isn't over
The COVID-19 crisis may be far from over, but credit spreads are already back at their long-term averages (Figure 1).
Figure 1: Reversion to the mean1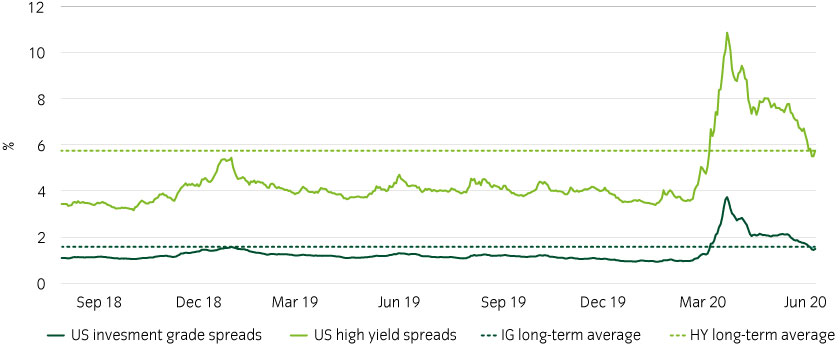 This is easily the fastest credit spread recovery from a crisis in recent history (Figure 2).
Figure 2: The fastest rebound in history?1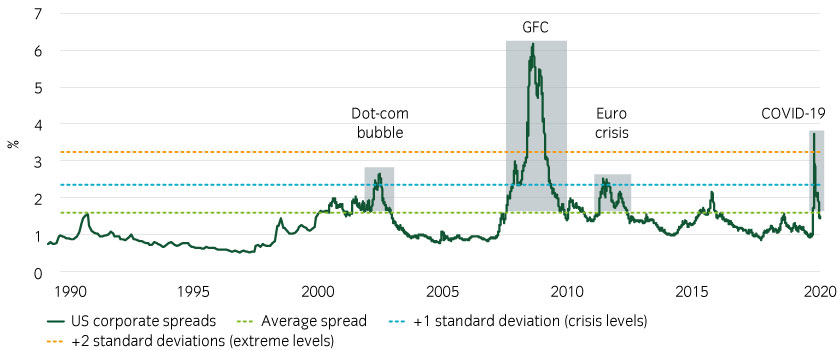 Despite this, certainty in the real economy remains in short supply – 'V', 'U' or 'W'-shaped trajectories still can't be ruled out.
Time for a combination of offense and defense
On the positive side, consumer data is outperforming expectations, payrolls beat expectations by the equivalent of New York State's workforce and retail sales were twice as high as expected2. Approximately $100bn of credit card debt has been paid off since March and we expect savings rates will rise ~5% this year from 8% pre-crisis – indicative of pent up demand.


On the negative side, the unemployment rate at 13.3% is still at post-Great Depression highs. Signs of a second wave of COVID-19 infections are emerging in states like Arizona, Texas and Arkansas. Risks remain that healthcare systems could become overstretched.
Credit investors arguably need the best combination of measured offense and defense until more certainty arrives.
The (measured) offensive case for IG
Traditionally, the higher-octane high yield market would be expected to outperform IG following a crisis. The BB market has even delivered a higher Sharpe ratio than IG or munis over 30 years3.
However, 2020 is proving to be unique – so we believe IG may offer the best value until the dust clears.
Beware of defaults
Even in a relatively optimistic V-shaped scenario, we believe high yield is susceptible to a potential 10% default rate. Pressured sectors (like energy and autos), comprise a third of high yield indices. Holding all else equal, this indicates a realized 12-month spread of only 0.5%.
Insight's realized 12-mth high yield spread projection for 20204
| High yield realized 12-mth spread projection | |
| --- | --- |
| Current average high yield index option adjusted spread5 | 5.36% |
| Insight's 12-mth forward default rate forecast (10% less 3% realized) | -7.00% |
| Implied 12-mth expected loss given default (30% of par historical recovery rate6 * 7%) | -4.90% |
| Projected hypothetical 12-mth index excess return over governments (realized spread) | 0.46% |
IG spreads are three times higher at 1.5%, despite better credit quality.
Even if we stress test IG by assuming a heavy impact from fallen angels ($100bn above the ~$120bn we have already seen) and assume forced selling after 100bp of widening (above the historical ~50bp7) – IG still comes out way ahead.
Insight's 12-mth realized IG spread projection4
| IG realized 12-mth spread projection | |
| --- | --- |
| Current average IG option adjusted spread8 | 1.46% |
| Insight's 12-mth forward forecast fallen angel rate ($100bn assumed / $6.41trn IG market cap9) | 1.56% |
| Implied capital loss = 1.56% * 7.5% (assuming 100bp of spread widening from fallen angels * index duration of 7.5) | 0.12% |
| Projected hypothetical 12-mth index excess return over governments (realized spread) | 1.34% |

Be selective
We therefore see IG as the current sweetspot. However, security selection is important for avoiding fallen angels (although at least active investors do not need to forcibly sell them and can retain them if deemed creditworthy or offload them more opportunistically).
Importantly, we believe security selection within high yield can also help enhance an IG strategy. While the wider high yield index (and associated passive strategies like ETFs) may be subject to material defaults, performance dispersion between issuers will likely be substantial.
Therefore, instead of a blanket allocation to high yield, we believe that extending a largely IG strategy to include bottom-up credit research-driven opportunity can add substantial potential value. We currently see opportunities in recent (but creditworthy) fallen angels and fundamentally solid companies within less COVID-19 exposed high yield sectors (see Fallen angels or falling knives? for more).
The defensive case for IG
Under U or W-shaped recoveries, we will enter uncharted territory. Importantly, we can't know how the virus will progress – but we can know what a strong balance sheet looks like.
Large companies with liquidity and staying power offer defensive cashflow sources in our view. The Fed's credit purchases offer another line of defense – and it has substantial room to upsize its $750bn facility if the crisis deteriorates.
IG spreads nonetheless look relatively compelling for yield buyers. Treasuries currently yield 0.4% at 10-year maturities or below10 while IG spreads are ~50bp shy of where BB spreads traded at the end of 2019 (Figure 5).
Figure 3: Pre-crisis BB spreads are close to IG today11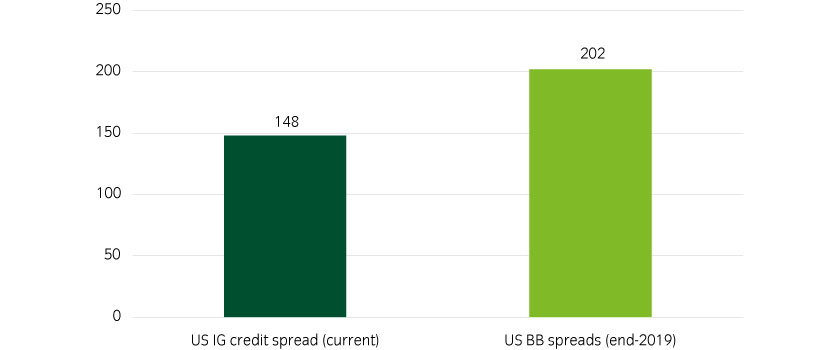 If investors were content with BB spreads before the crisis, accessing similar spreads today at potentially materially lower risk could be compelling.
IG could be the place to be until more certainty arrives
"Patience is not passive, on the contrary, it is concentrated strength." – Bruce Lee
Investment grade corporate credit supplemented with selective high yield could be the ideal place for investors to be patient. Outside of the mainstream corporate credit market, we also see a similar sweet spot of offense and defense in high grade structured credit. We are similarly waiting patiently for greater certainty to arrive before moving down the structured credit capital structure (see our Structured Insights series for more). Investors can potentially earn compelling carry while waiting for clear-cut opportunities to move into higher-risk assets as the economic and epidemiological outlook becomes clearer.