February 04, 2021
Liability-driven investment
Why consider dynamic hedge path implementation?
Many plan fiduciaries today have decided to strategically increase their interest rate hedge ratios over time, implementing this decision through a hedge path strategy with systematic rate-level triggers. Typically, these are implemented under a one-way static framework, where hedging is increased only if the trigger is reached (see Figure 1). Once the hedge is increased it is no longer changed regardless of market levels.
We believe a more dynamic approach with two-way market-level triggers can better take advantage of market volatility in range-bound markets, and in turn this can help to cheapen the cost of the hedge program over time.
Figure 1: Traditional hedge path with static implementation1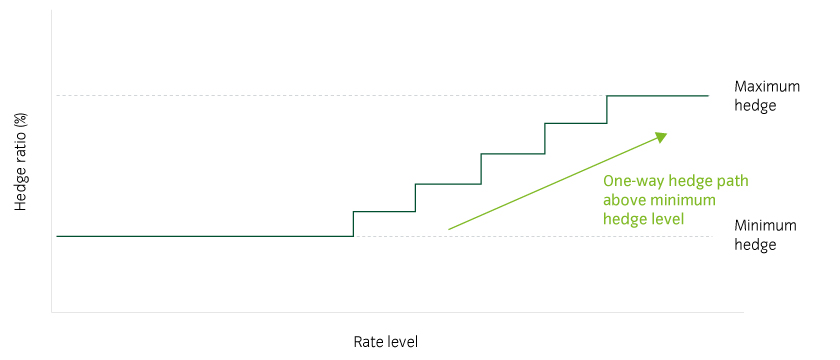 How does it work?
A dynamic two-way hedge path works by systematically increasing – or decreasing – the hedge level depending on the prevailing level of market rates as outlined in Figure 2 below.
In our view, the benefit of this approach is that it not only allows plan fiduciaries to increase their hedges as the cost of hedging cheapens, but it also allows them to sell hedges as rates fall, buying them back again when the market rebounds. Therefore, a plan also benefits from round-trip gains when rates are volatile around a mean level, rather than only when trending upwards.

Downside risk at the total-plan level is controlled as this approach is only applied to all or part of the unhedged portion of a plan's liabilities to ensure that at no point is the core minimum hedge ever compromised. In addition, the tailored hedging strategy can be recalibrated or switched off at any time with little delay or cost.
Figure 2: Dynamic two-way hedge path implementation1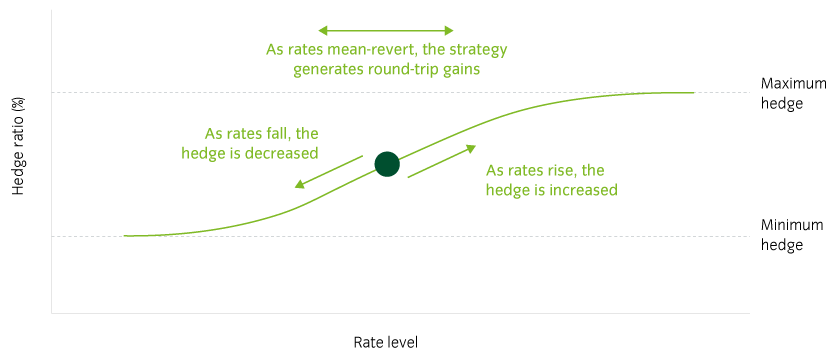 Potential benefits
Benefit from volatility, by getting paid to wait in range-bound markets – if rates fail to trend upwards but remain volatile around a mean level, returns are still generated from round-trip gains
Creates an additional source of uncorrelated returns – there is potential to exploit a source of return which is uncorrelated to traditional return sources
Introduce dynamism without the governance challenges – the pre-agreed rules and systematic daily implementation reduces delays, missed opportunities and subjectivity when exploiting market movements to enhance your hedging program
Additional considerations – what can go wrong?
By design, hedge paths work only if rates rise. Hence, both static and dynamic implementation approaches will suffer if rates decline and do not subsequently recover to the market trigger level.
Dynamic hedging strategies are not a free lunch and involve some re-risking as well as de-risking. They can therefore produce returns which may be inferior to a static implementation program in a scenario where a market trigger was reached, but then removed as rates fell, and the market subsequently falls further without subsequently mean reverting.
We would suggest a downside risk protection configuration for plan fiduciaries that are concerned about the potential for large falls in rates or the funding implications thereof.
Other ways to dynamically gain from market movements
Dynamic hedging is a flexible capability. Programs can be structured to help plan fiduciaries meet different objectives. In addition to the strategy outlined above, the program can be configured to mitigate funded status deterioration caused by declines in rates by systematically increasing hedge ratios when rates fall beyond a threshold level. Dynamic hedge programs can also be designed to manage interest crediting rates embedded in cash balance plans. And, while a change in nominal rates is the most obvious risk factor to manage, this capability may also be applied to different risk factors, such as inflation, credit, currencies or equities; we have managed currency risk using this approach since 1991.
Dynamic hedging in practice
Before implementation, we would agree the program parameters– such as the minimum and maximum hedge ratio and the desired sensitivity of the hedge ratio to the change in rates – with the client and their consultant. We then monitor the program in real-time, adding and removing hedges as appropriate. Hedges can be implemented with a range of interest sensitive instruments, most typically utilizing Treasury Bonds and/or futures.
Recent market volatility has demonstrated how these programs can add value to a pension plan's funded status. In July 2019 Insight launched two funds to hedge nominal and real rates in the UK. Since launch, both funds have added value during a challenging and volatile market environment2. Compared to a pension plan with a static hedging level, typically for US plans we would expect a dynamic hedge implementation to add 2%-4% per annum to the portion of the hedge it is applied to.
Why consider dynamic hedging now?
We see limited room for rates to rise or fall over the foreseeable future.

Rates are limited on the downside due to the Federal Reserve increasingly running out of ammunition to combat the disinflationary impact of ageing, technological change and globalization. The upside for rates is limited by central banks increasingly passing the baton to governments to pass fiscal policy stimulus measures to combat these secular headwinds. And as governments engage in more deficit spending, they will need central banks to keep their borrowing costs affordable through low policy rates and ongoing asset purchases.
As such, we expect rates to trade sideways within a range, but with potentially high levels of volatility given high levels of economic uncertainty and disruption across the financial and political news cycle. In this environment, the choice for plan fiduciaries seeking to raise their hedging levels appears to be either to be very patient or to look at alternative approaches that can help monetize their hedge paths.