January 28, 2020
Global macro, Instant insights
The US Treasury has announced it will issue 20-year bonds (from the 'first half of 2020') for the first time since 1986.
This will introduce meaningful supply to the otherwise-barren intermediate part of the Treasury yield curve (Figure 1).
Figure 1: The stock of US Treasuries at the intermediate part of the curve is thin1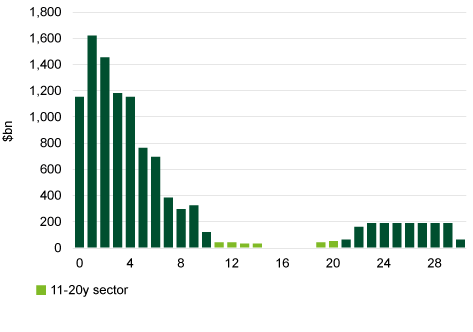 The announcement came far earlier than expected, but was in the cards for several months as the US administration has been looking to capitalize on lower longer-term financing rates. It had also been proposing unprecedented products such as ultra-long 50-year bonds and at Davos this week, Treasury Secretary Steven Mnuchin confirmed they are still being considered.
Expect liability-driven accounts to drive demand
Corporate DB pension plans and insurance companies will likely be the natural buyers of the new debt, as a meaningful proportion of their liability risks come from the intermediate and long end of the curve (Figure 2).
Figure 2: Pension liability risks are underserved by available bonds2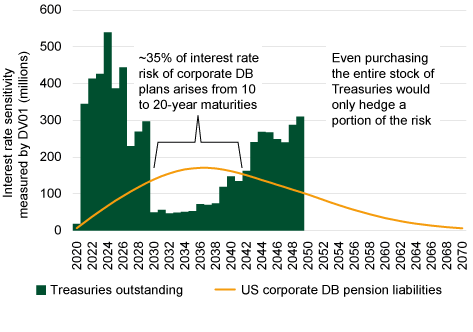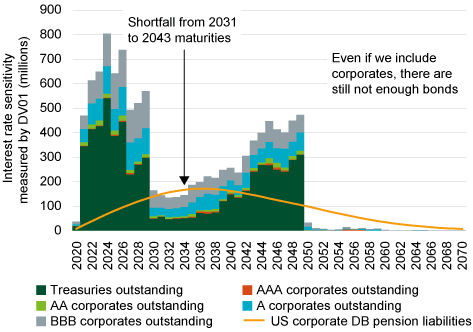 The development will allow for more precise key rate hedging and cashflow matching (the latter is a growing priority for insurance companies given regulatory and accounting considerations).
Efficiency of STRIPS3 market will also likely improve
Investors will also now have an alternative to hedging with Treasury futures and STRIPS. In turn, this will likely improve availability, liquidity and pricing in those markets as well.
Additionally, 20-year Treasuries will become a new source of stripping activity, so principal STRIPS will become more available around 20-year maturities. This will complement the existing supply of longer-dated principal STRIPS. The expectation is that the new 20-year issuance will align with existing 30-year Treasury and STRIPS maturities also allowing for the coupons to be fungible with existing coupon STRIPS.
Liquidity may also improve further as dealers can use the new bonds to better hedge their balance sheet exposure to intermediate-dated coupon STRIPS.
For years, investors have been forced to smooth the yield curve to infer its 'correct' shape. This is not an exact science, resulting in pricing inefficiencies in intermediate fixed income assets. This will likely become less of an issue and the new instruments will likely price closer to fair value.
20-year corporate issuance will likely follow
Few corporate deals are currently issued with 20-year maturities (Figure 3), given the lack of ability to price them against 'on-the-run' 20-year Treasuries.
Figure 3: Corporate issuance at 20-years is very uncommon4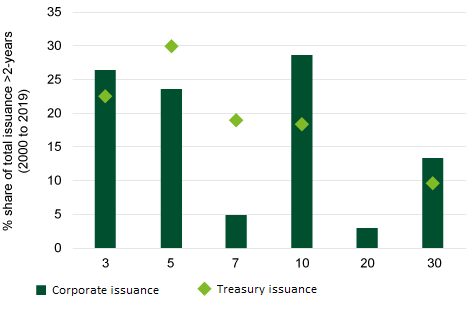 Many of the 20-year corporate bonds currently outstanding were issued around a decade ago (initially with 30-year maturities). They tend to be heavily-owned by insurance companies and often do not trade for long periods of time.
In order to compensate investors for lower liquidity and less price transparency, they have tended to offer an additional risk premium. This premium is now in the process of being eroded. Following the announcement, there was something of a race for 20-year corporate paper.
We expect issuers to take advantage and begin issuing 20-year corporate debt. In our view, this will come more at the expense of 10-year rather than 30-year issuance, as it typically has done historically5. Corporates will likely prefer to have it supplement (rather than replace) their 30-year issuance, given strong demand from liability-driven accounts for the longest-dated paper.
What's next?
Investors likely won't need to wait long for further information. The Treasury is expected to reveal more at its next quarterly refunding announcement on February 5th.
We will continue to closely monitor longer-term investment impacts. As always, please feel free to reach out if you'd like to discuss or have any questions.
---
Please note: any forecasts or opinions expressed herein are Insight Investment's own as of January 28, 2020 and subject to change without notice. This information may contain, include or is based upon forward-looking statements. Past performance is not indicative of future results.