March 03, 2020
Global macro, Instant insights
The Federal Reserve (Fed) announced a surprise 50bp rate cut this morning – its first rate cut outside of an FOMC meeting since 2008, following the collapse of Lehman Brothers.
A marked reversal
Although the Fed cited "strong" US economic fundamentals, it cited material, unknown and "evolving" risks posed by the global spread of the novel coronavirus.
This is a marked reversal from comments last week. Fed officials had suggested no rate moves were imminent. It also follows a G-7 conference call this morning where no concrete action was announced but members pledged to act "appropriately" on the fiscal and monetary front.
A cut offers indirect economic support
A rate cut cannot be expected to support the economy by resolving supply chain disruptions or making consumers more willing to travel.
However, it can offer more indirect support. The message that the Fed stands ready to provide liquidity and monetary accommodation offers support to financial markets, which can potentially feed through to the real economy via higher confidence and perceived wealth gains.
Potential to ease financial conditions
Importantly, expansionary monetary policy can attempt to loosen financial conditions, which have tightened sharply over the last two weeks (Figure 1). If successful, this has the potential to reduce the volatility of financial markets, thereby supporting the real economy.
Figure 1: Financial Conditions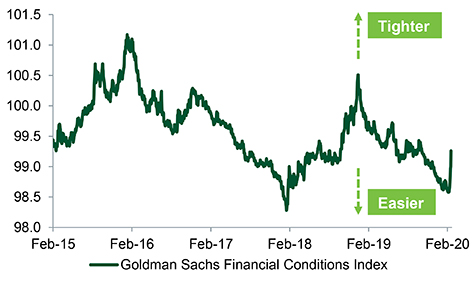 Source: Bloomberg, March 3, 2020.
In the hours following the announcement, Treasury yields fell materially with the 10-year yield dipping below 1% for the first time in history.
Investors need to grapple with uncertainty
The spread of the coronavirus is an unprecedented event and remains a rapidly evolving situation and source of real uncertainty for market participants. We expect it to impact global economies and financial markets alike for some time. Should further downside risks materialize, we expect the Fed to provide further accommodation in its ongoing goal of 'sustaining the expansion'.
Until markets receive further clarity, we expect them to remain volatile. In the midst of unpredictable daily swings, we believe investors need to avoid losing sight of their long-term objectives. Disciplined and opportunistic security selection-focused investors may in time find valuable and robust opportunities in carefully-underwritten credits.
---
Please note: any forecasts or opinions expressed herein are Insight Investment's own as of March 3, 2020 and subject to change without notice. This information may contain, include or is based upon forward-looking statements. Past performance is not indicative of future results.