August 27, 2020
Global macro, Instant insights
The Federal Reserve has announced a key shift in its approach. Previously, it targeted a 2% rate of inflation at any time—a target which, due to persistent disinflationary forces over the last few decades, it has largely missed (Figure 1).
Figure 1: Inflation has largely trended below-target1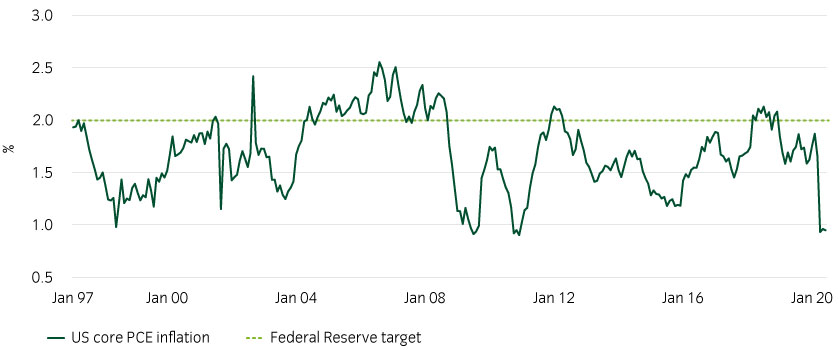 Today, however, Fed Chair Jay Powell made clear that the official 2% inflation goal will be an average target, rather than a ceiling, from now on.
So, instead of pre-emptively turning down the gas to prevent an over-heating economy, the Fed will allow it to fully come up to temperature first.
The Fed was explicitly clear that this won't mean inflation will be allowed to shoot up to say, 5%, to compensate for all these years of underachieving its target. Fed Chair Powell confirmed: "the overshoots will be moderate – which is to say not large". Essentially, given the severity of the current downturn, the Fed will exercise greater tolerance for the economy to bounce back. We expect the central bank to allow (if not actively seek) inflation running modestly above 2% (perhaps up to 2.5%) as the economy recovers.
Lower for even longer?
We believe this potentially postpones the eventual 'lift-off' in policy rates until 2024, as inflation doesn't look like a near-term risk to us given the current excesses in unemployment.
Over the longer term, however, it does increase our perception of inflation risk. Therefore, it may be justified to expect steeper curves (as reflected by the initial market reaction) and a higher terminal 'rate'.
Of course, the Fed's unlimited QE program still offers a potent tool to keep yields low (its current pace of Treasury purchases is $80bn per month), which may slightly temper the effect.
Future unemployment and inflation dynamics
Prior to the current crisis, inflation had struggled to accelerate, even given 50-year lows in unemployment – and even below estimates of NAIRU (non-accelerating inflation rate of unemployment).
In our view, this implies greater potential for the unemployment rate to run below the 5% level (once the economy eventually recovers) without triggering a monetary tightening response.
Figure 2: US unemployment rate2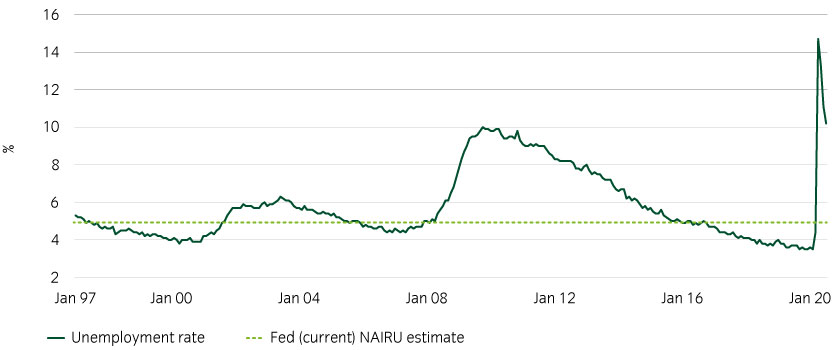 Market support
We see the shift in policy framework as a positive for markets – given the potential for additional years of 0% policy rates and the ongoing search for yield. Furthermore, the possibility of a steeper curve will potentially also encourage more foreign investment into US credit.
Over the longer term, this shift also allows for a 'hotter' economy as the unemployment rate recovers, potentially resuming the pre-COVID dynamic of upward pressure on wages and downward pressure on corporate margins. This is, of course, a consideration that we expect would be multiple years away.
For now—the chase for yield continues to be the dominant market dynamic.