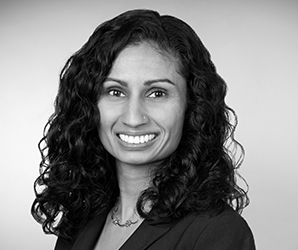 Sweta Vaidya, FSA, CFA, EA
Head of Solution Design North America, Client Solutions Group
Close
Sweta Vaidya, FSA, CFA, EA
Head of Solution Design North America, Client Solutions Group
Sweta is based in Insight's New York office and, as Head of Solution Design North America, works on the design and delivery of investment solutions tailored to address client-specific risk, return and strategy objectives. Sweta joined Insight in July 2021 from Callan LLC, where she was Senior Vice President, Capital Markets Research. In this role, she consulted to a wide range of asset pools: corporate and public defined benefit plans, insurance funds, hospitals and health-care systems, and assisted with their strategic investment planning and fixed income manager structures.
Prior to Callan, Sweta spent nine years at Willis Towers Watson as a director in the Investment Strategy Group where she performed asset/liability studies for some of the largest corporate pension plans in the US in order to determine asset allocation, set dynamic de-risking policies over time, settle liabilities and make funding policy decisions. She began her career in 2005 as an actuarial analyst at Watson Wyatt.
Sweta received a BS (cum laude) in finance and actuarial science from New York University's Stern School of Business. She is a Fellow of the Society of Actuaries (FSA), an enrolled actuary (EA) and a CFA charterholder.