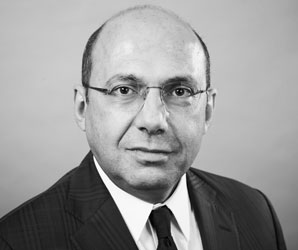 Abdallah Nauphal
Chief Executive Officer
Abdallah Nauphal
Chief Executive Officer
As Chief Executive Officer (CEO), Abdallah leads the development of Insight's strategic business plan. Abdallah was appointed Chief Investment Officer (CIO) in September 2003 with overall responsibility for the investment management team, and in June 2006 was appointed Deputy Chief Executive.
In July 2007, Abdallah became Insight's CEO, while retaining his position as CIO. Abdallah has over 30 years' industry experience. He has overseen the transformation of Insight from a traditional investment manager to a specialist solutions provider across LDI, fixed income and absolute return. During this time, the scope and complexity of Insight's business and governance structures has evolved significantly. As a result, in 2016, Abdallah relinquished his CIO responsibilities, to focus on the role of CEO.
Abdallah's previous roles include CIO (fixed income) at Rothschild Asset Management and Head of Fixed Income for Schroder Investment Management Limited in London.
Abdallah holds a Bachelor degree in Business Administration from New England College, an MS in Information Systems and an MBA in Finance and Investments from George Washington University.