Contact Us
Please read important information about Insight's data collection policies HERE before sharing your personal information with us on email.
Insight is an active fixed income manager dedicated to working in partnership with its clients to help them meet their investment goals.
As pension funds continue to mature, our clients are increasingly telling us that they need to:
increase the certainty of returns through contractual cashflows
generate higher yields without taking additional credit risk
diversify beyond mainstream credit
We strongly believe that institutional investors should consider integrating secured finance investment strategies into their portfolios in order to help achieve these objectives.
Features
Secured finance strategies aim to provide greater yield and lower risk than similar quality credit opportunities. In particular, they are designed to provide:
A yield premium: there is an excess spread available to investors relative to investment-grade corporate credit without having to compromise on credit quality, due to the lower supply of credit to the market.
Greater cashflow certainty: at the heart of each investment is a contractual promise to pay, secured by ring-fenced or identified assets which increases the certainty of payment.
Structural protection: low loan-to-value ratios, covenants protecting the lender's position and structures with built in excess collateral are some of the ways that secured finance investments can be structured to help protect investors from defaults.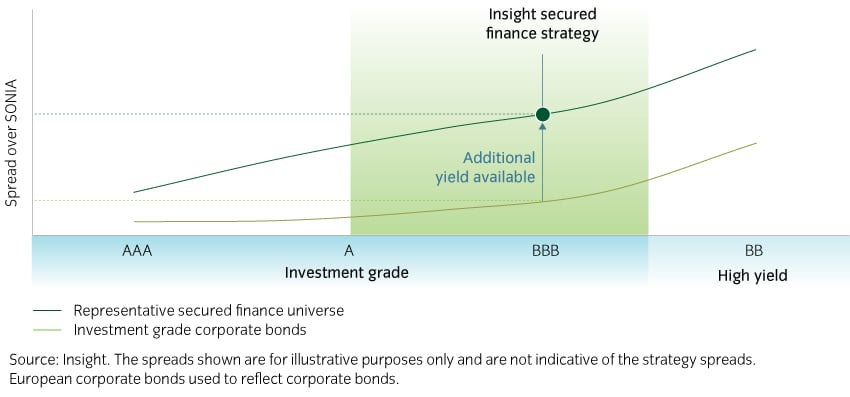 In our opinion, an allocation to Insight's secured finance portfolio can help you in a number of ways:
Increase the return expectation of your credit allocation given the expected yield premium relative to traditional investment grade corporate credit markets.


Reduce the volatility of your credit or broader bond allocation given the diversification properties of these investments relative to other bonds.


Protect against the price impact of rising interest rates due to the floating-rate cashflows from the portfolio.


Help to create a reliable buffer between your short-term, liquid cashflow generating assets and your longer-term, growth generating assets.
In addition, we also offer a wide range of asset-backed securities that benefit from a diversified pool of underlying collateral with strong investor covenants.
Please note: with effect from 5 January 2018 we are no longer accepting subscriptions to IIFIG Secured Finance Fund. Investors with existing holdings are not affected and you can still sell your shares. We remain open to new segregated Secured Finance mandates with customised investment guidelines and investment in the IIFIG Secured Finance II Fund. Please contact your Insight relationship manager for further information.
Fixed income team in numbers
168 Fixed income investment professionals globally
19years Average experience of fixed income team
£224.0bn fixed income assets
As at 31 March 2022. Assets under management (AUM) are represented by the value of cash securities and other economic exposure managed for clients.
Corporate profile
Factsheets
Fund and strategy profiles
Prospectuses and scheme documents
Recent thinking
Secured finance