Life as A Tech Grad: by Sydney Vertigan
As I finish my first of four rotations as a technology graduate at Insight, I reflect on what a rewarding experience I have had so far.
I'd been warned about what to expect from friends about moving to the city and joining a finance company.
I have had these views flipped on their head. Insight has been much more innovative and welcoming than my expectations.
When I arrived at Insight
I received an extremely warm welcome.
At first it was surprising how many people came up to introduce themselves and say hello, but this absolutely made those first day nerves go away.
My team has been incredibly helpful, and no question is 'too silly'.
Moreover, every individual I have met has been willing to give advice and made time for me when I've needed their help – whether they sit on my team or not.
My last 6 months have been spent with the Cloud Security team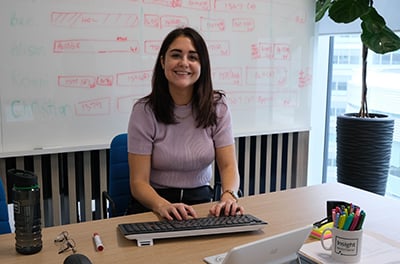 I have gained skills both in Azure and the security space.
After doing my postgraduate degree in the Mathematics of Cybersecurity, this was a nice fit and allowed me to see learnt theory brought to life.
Being in this team has been a great insight to the risk management culture in a financial environment.
I will pivot onto a development team in Manchester for the next 6 months to expand very different skills.
Every graduate is buddied up with a mentor
This is helpful with navigating around the business and someone to answer questions without judgement. This relationship has been one of my favourite things about the programme so far. My mentor has been amazing! Very supportive in my decisions and the direction I want to go with my career, and a fountain of advice and encouragement. It is an amazing feeling to know you have someone to talk to at work whilst you are still trying to get used to 'the working world'. As technology graduates, we also have access to our technical spirit guides – the all-knowing gurus of the Insight technology universe.
Meeting my fellow graduates
We were given the opportunity to meet all graduates before the scheme started. We got to know each other and set up a group chat to keep in touch. After many chats and some good banter, it felt like I was starting this job with friends. I knew I wouldn't be alone at lunch on my first day!
My fellow graduates are one of the best elements of the scheme. Over the first 12 weeks we had one training day a week together, followed by many social events, which allowed us to really bond. We all sit in different areas of the business so there is always someone that can shed some light on any problem you may be experiencing – whether it be technical, finance or even compliance. I can safely say I think I have made friends for life.
Complete the IMC (Investment Management Certificate)
This consisted of some training days with the whole cohort and a lot of self-study. Most of us starting in technology were not as familiar with the jargon and the concepts and this helped us get up to speed with the other graduates.
We also have Pluralsight subscriptions, so whatever technological training we need is at our fingertips. I am currently revising for the AZ-500 Azure Security exam using it. The variety of learning and rotations available makes this a fulfilling scheme with opportunities to develop and grow.
Technology cohort
As a technology cohort, we have our own project which we work on once a week. It has been good to attack a project from the very beginning using the agile methodology. It has been useful to see the many signoffs needed to get the go ahead and understand how projects work in the corporate world. We have all been allowed to get our creative juices flowing here and work on every angle of our application; from the UX and UI design, to the architecture and the development. Again, another experience that gives us increased opportunities to learn new skills.
I move into my next rotation excited for the rest of my Insight journey. I'm looking forward to many more learning experiences that will come my way.